Friedrich Gulda(16th May 1930~27th Jan. 2000)
[ Wolf-Genius in Sheep's Clothing ]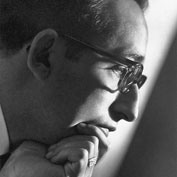 [ Left ] Friedrich Gulda(photo from Philips Homepage)
Someone says Friedrich Gulda is very excellent, but someone he is out of mind as a classical pianist. But I think he has all conditions that we called him excellent, individuality and technique in his record at least.
Friedrich Gulda was born at Vienna in a teacher's family, his father was a dilletante musician. He learned piano by Felix Pazofsky from 7 years old, and entered Vienna music academy in 1942. He was taught piano by Bruno Seidlhofer, and musical theory by Joseph Marx(composer, also taught Rudolf Serkin). He won the first prize of Geneva International competition on 1946. Jörg Demus and Paul Badura-Skoda are similar to him by age, and they began to be called "Viennese troica". He began concert tour from 1947, and contracted Decca in 1949, the year of advent of magnetic tape instead of 78s. The earliest commercial recording I know is Beethoven's Sonata No.14 and 31 in 1949(Decca).
He succeeded in Carnegie Hall début on 1950, beginning to get international fame. He was famous for the player of Beethoven and called the hope succeeding Backhaus and Kempff's tradition. His Beethoven based on fast tempi and activity by excellent technique is worth be listened once from now on. Except for Beethoven, his favorites were J.S.Bach, Mozart, and Schubert. In special, Mozart has got the high reputation by the big scale. Friedrich liked to play Chopin, Debussy, and Ravel, so did not confined himself in the German-Austrian repertoire.
He was totally against any authorities. He returned Beethoven ring offered by Vienna Academy against its authoritism, and was famous for appearing at concert in a casual suit. So he was nicknamed 'Terrorist-Pianist', which was a barrier or prejudice to the traditional classical music fans. He began to include jazz works by himself in his concert programs, which of course resulted in much controversies. One or two year before death, he played trick on his friends by fake death report of his own and perplexed them by appearing in front of them, really dying of heart failure before 5 months of the 70th birthday on 27th Jan. 2000.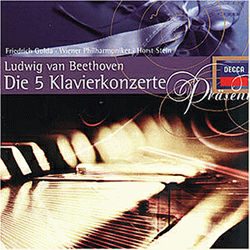 Already he passed away, and considerably reduced the recording of classical repertoires from 1980s. In 1990s, his live recordings are mostly composed of Jazz, transcriptions, and his own compositions(jazz-likes). Therefore, if we want to listen his classical repertoires, unhappily we should select his 'somewhat older' 1950~70s recordings. Moreover, his favorite is Beethoven, most of which are not released internationally or not easy to buy, because in the stereo era he contracted with independent labels such as Amadeo(Austria) and MPS(West Germany). The CD releases of these recordings are by major distributors' license(HMF, Polygram...) from time to time but not often, and recordings by Decca is available only partly and recently. In short, Gulda is not lucky in CD reissue.
But Beethoven fans would not want to pass his recordings. The most important one is surely the second complete sonatas in 1967(Amadeo). First of all, his technique is marvelous. It is said that a pianist said 'beast-like technique' about the Hammerklavier in this set. Most of all, his playing is fresh and with much musical activity and spontaneity. This set reveals Gulda's thought more clearly than his older one recorded from 1950 to 1958 by Decca. But this set is not only rare but also deficient of 'sincerity' - only sum of 9 single CDs, and devoid of any liner notes. The next is complete concertos with Vienna Philharmonic conducted by Horst Stein(Decca, 1970 & 1971). Stein's support and the orchestra is undoubtedly the first level in traditional view, and Gulda's playing is also impressive - bright but with a grand scale. But Decca has not yet released this recording as CD internationally - only to get the German or Japanese local versions. The complete cello musics(sonatas and variations) with Pierre Fournier is very good(DG Dokumente). Gulda's spontaneity is perfectly fused with Fournier's fluent and graceful music(See his tribute to Pierre Fournier in his page). Gulda's ability in chamber music is enough to enjoy this set. His Diabelli variations(MPS; HMF released CD) is to be categorized as the Amadeo sonata set in style. The fast tempo and precise technique is evident.
I recommend his individual playing of Mozart next to Beethoven. He recorded Mozart many times, but much of them is not available now. Sonata Nos.11, 13, and 15 are recorded by Amadeo, but almost not available. K.570 and 576 and Fantasy is released by DG. In concerto recordings, Nos. 20, 21(1974), 25, and 27(1975) with Vienna Philharmonic and Abbado is the first choice(DG). Abbado's conducting is somewhat debatable, but piano is one of the individual performance of this repertoire without doubt. Moreover, this attractive recording is released as budget(double) format. Other than this easily available CD is only Teldec issues - Nos. 23 and 26, double concerto(with Chic Corea) with Harnoncourt and Royal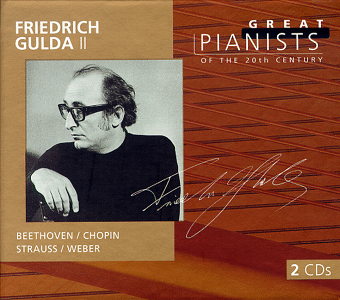 Concertgebouw. He had a high reputation in Schubert's works, but it's difficult to get his recordings - Sonata No.16 in a minor(Amadeo), Impromptus D.899 and Musical moments(Columbia). Bach recording is rarer - Well-Tempered Clavier Book I & II(MPS, licensed by Philips Duo) is one of the 'Cult recordings'. Recital in Amadeo label includes 'Italian Concerto BWV.971. Recently Philips released his early Decca recordings by Pianist series. Vol.1 is for Debussy/Ravel, and Vol.2 contains Weber's Konzertstück, R.Strauss' Burleske, Chopin's concerto No.1 and Ballades, etc. Weber and Strauss is interesting and Balakirev's edition of Chopin's Concerto No.1 is rarely heard. Ballade can convey Gulda's face as the best technician in his contemporaries.
Peter Cossé referred on his gifts 'Wolf-genius in sheep's clothing(ein genialer Wolf im Schafspelz)' in the liner note of Philips pianist series(Vol.2, 456 820-2), comparing the recording of Beethoven's Concerto No.1 with Böhm(1951) to that with Stein(1970). It's interesting expression from which we infer the face of Gulda in a tail coat at concert, and witty compression of his musical essence - an excellent player who tended to play jazz later, unhappy to the classical music fans.
[ Right ] Gulda, Series II ; from Amazon(Germany division)
(c) 2000~ , Youngrok LEE ; Link free, but please get my approval before you reuse, copy, or quote this materials.
Created ; 20th Mar. 2001
(Original Korean page created; 15th Oct. 2000)