Rudolf Serkin(28th Mar. 1903~8th May 1991)
[ The piano has always been less interesting to me than the music ]
Curriculum Vitae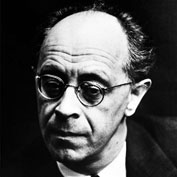 [ Photo from Philips Homepage ]
Many pianists begin as solist, but turn to other way(chamber musician or vocal accompanist) after they know the talent of their own are not proper to solist. The opposite cases are so rare, in which I think Rudolf Serkin perhaps succeeded most. Furthermore, he is one of the most outstanding example of a professional musical family in 20th century.
Rudolf Serkin was born in Eger(Bohemia? Austria?) on 28th March 1903 in a Jewish Russian family. He was taught music by father(singer) and moved to Vienna at nine, where piano by Richard Robert and composition by Joseph Marx(then George Szell was among his pupil, and the two musician cooperated in many recordings later in USA). Rudolf was hailed as a child prodigy as he played Mendelssohn's concerto with Vienna Philharmonic at twelve, but he started regular concert carrier in 1920.
It is said that his connection with Busch family was in 1920, also. (I heard this story that) Adolf Busch was seated at a concert by Rudolf. Busch was amazed by Rudolf's gifts and tried to meet him so as to ask his accompaniment, managing to meet Rudolf at train station shortly before Rudolf's leaving because he was disappointed by audiences' response. The two men, met by accident, had played for 32 years. Rudolf gave the Berlin début concert by Brandenburg Concerto with Adolf conducting, which won the great applause from the audiences. It is now legendary that the encore he played was Goldberg variations. The best encore I have ever heard, and perhaps worth while to being recorded in the Guinness Book. (Another fairy-tale-like thing) when Rudi was invited at Busch's home, Adolf's daughter Irene, only at four, said "I'll marry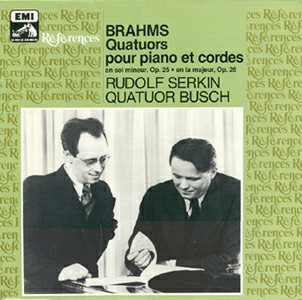 you after I am grown up". (Whether you believe it or not) it was surely true she - also violinist and played in her father's chamber ensemble - married Rudi in 1935. Therefore, Adolf Busch(violinist), his elder brother Fritz(famous conductor; 1890~1951), younger brother Hermann(cellist; 1899~1972), Irene and Rudolf, their son Shorn(hornist) and Peter(famous pianist; 1947~ ) are most famous and strongest music family in 20th century.
Adolf Busch was highly acclaimed in Europe by noble and well-structured playing and his fame grew widespread, and as his constant accompanist, chamber musician of Busch quartet, and solist of Busch chamber ensemble Rudolf Serkin's fame also did. HMV contracted them for Brahms' chamber music series, and recorded some works of Beethoven, Schubert, and Schumann except Brahms from early 1930s to 1939(some of the recordings done in 1949), many of which are highly evaluated from now on. But his Jewish blood was not overlooked by Nazi, so Serkin and Busch family emigrated to USA through Swiss in 1939. Rudolf took the post of Curtis Music Institute in the same year, and settled at Guilford, Vermont. He founded Marlboro(near Guilford) Music Festival with Adolf, becoming the only leader after two years because of the Adolf's death. Marlboro Festival is now one of the most famous music festival in America, of which among the regular member was many outstanding musicians like Pablo Casals who was invited by Serkin himself. They say artists liked the free atmosphere in this festival very much.
Though he had already began solo recordings at Columbia from 1940s, he became well-known as solist after Adolf passed away on 1952. He concentrated on solo recordings after completing Beethoven's cello sonatas with Casals(1953). As far as I know, his studio recordings of chamber music except Marlboro lives after 1953 are only 4 works - quintets of Schumann and Brahms with Budapest String Quartet(1963), and Brahms' two cello sonatas with Rostropovich(1982). He toured all over the world, Europe, America, Asia(including Japan and Korea) and was evaluated as one of the supreme master of German classic and romantic repertoires. He finished his excellent career by playing Beethoven's "Emperor" with Cleveland Orchestra and Chicago Symphony in 1988. He died of cancer in May 1991 at his Guilford home.
Serkin said "Although I am pianist, the piano has always less been interesting to me than the music itself". When he was the faculty of Curtis, he stopped teaching to study Bach's cantatas for a year, from which we cannot but think that he was somewhat 'disinterested' in piano playing itself. (Therefore) the sound he produced is somewhat different from those of others. Besides his technical perfectness (even in later years), it is interestingly said his hands were far from the pianist's - looking clumsy and like those of physical laborer(see color photo below).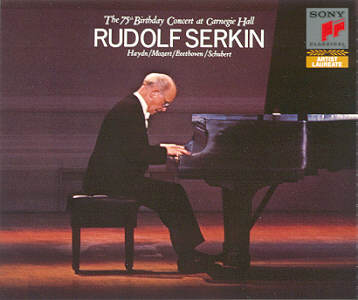 As far as listened by records, his sound was transparent and not abnormal in the ages of Busch's partner. But something was already changed in the recording of Beethoven's cello sonatas - to the keen sound of stereo era. It is truely amazing that the most part of this set was recorded at 1953, only one year after Busch's death. In the early 1960s, the change had already finished. Of course there are some differences in recording technique, but in comparing his two recordings of Brahms' quintet - the old one with Busch quartet(HMV, 1938) and the new one with Budapest quartet(Sony, 1963) - we can easily know there are quite many differences at piano sounds. The other sides, late DG recordings show another sound - round and not keen, similar to the early periods. Such changes are not frequent in a pianist. At early years the sound was toward chamber music - transparent and common, altered to the one appealing his will(fit to the solo works), and settled to tender and warm one.
A Japanese critic said in his books, "When we criticize Serkin, it will make many mistakes to hear only his records without listening his live concerts." He continued, "Serkin is very sincere in recordings, therefore extremely concentrates on texture and structures of the music, which makes many differences between live and records." Critics say "He moves strangely in concert, and pulsed the music after his motion", and we can often hear his humming habit even in records. As far as I listen his records, I think his music is abnormally well-balanced, but that his music often seems to break it. Beethoven's 'Pathétique'(Sony SBK 47666) gave me the impression, pulsed and uncontrollable power under balance especially in third movement. One of my seniors told me his Lugano live(Ermitage ERM 110) perfectly showed his uncontrolled face - almost thundering piano. Anyway, his music is not apparently sophisticated whether live or studio. So... my careful suggestion is that Serkin's instinct is for freedom and power, but that Adolf Busch's influence has him button his instinct. Perhaps there are violent collisions between his instinct and balance, but he consciously tried to center the texture because he pursues perfectness in recordings. Instead that he gave up easy-listening and soft performance, he chose strong tension and toughness, which had him evaluated as virtuoso in Brahms and Beethoven. Other composers are also fingerprinted by him, but not as charming as the two B's. Schubert is recommended as the next choice for Serkin.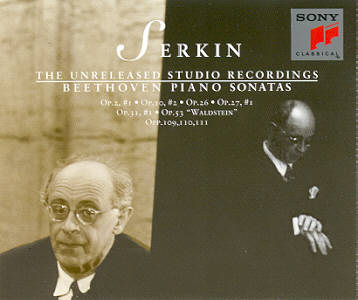 In his recordings, above all, I recommend '75th anniversary concert'(Sony), which is one of his rare live recordings. The program was Haydn, Mozart, Beethoven, and Schubert, and very good performance - but not 'live Serkin' yet. The style is settled down to that of the recordings. In Beethoven sonatas including the three famous one(No.8, 14, 23), 'previously unreleased recordings(Sony)' is very good. No.30~32 are recorded in his peak time, and first issued items are No.1, 6, 12, 13, and 16. The next is 'Hammerklavier(Sony)'. I think it's a representive in stereo era - monaural Backhaus with intrepid spirit, and most beautiful Gilels in digital era. In the concerto recordings, Brahms' two works with Szell/Cleveland(Sony) are best. Solid technique and large scale are evident, and moreover Szell's conducting is supreme(and, budget price!). These are necessary choices. One more is Schubert's sonata No.20(Sony), which shows intense and impressive expression.
In chamber musics, the quintets of Brahms and Schumann with Budapest quartet are first recommended recorded at Guilford in 1963, considering sound quality. He had already recorded these works with Busch quartet, but in the new recording (comparing Brahms) we can hear Serkin's assertion more clearly than the old one. Beethoven's complete cello sonatas with Casals(Sony) are impressive in passionate playing, and Brahms' two cello sonatas with Rostropovich(DG) show his refined music in late years. The recordings with Adolf Busch are now historical and I think Busch is the musical leader in any repertoire. Brahms' quintet and quartet No.1 are the best(all EMI), but the later from EMI international has too serious problem to recommend. See my 'Record Error' section of Brahms.
To name other recordings as long as possible, Beethoven's complete concertos in monaural era(with Ormandy/Philadelphia), stereo era(with Bernstein/NYP & Ormandy/Philadelphia), and digital era(with Ojawa/Boston Symphony). By CD, Telarc release is available. If you do not mind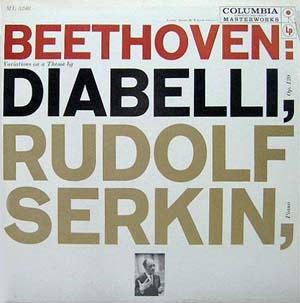 LPs, two Columbia recordings are cheap so far. Brahms' concertos were recorded two times before the recording with Szell - Szell(no.1; 1952) and Ormandy(no.2; 1956, stereo in 1960/61). Most of Mozart's concertos after No.9 were recorded with Szell, Ormandy, Alexander Schneider(famous as second violinist of Budapest quartet) at Sony, and with Abbado/LSO(later DG) which are available by 7-CD set now. In general, Sony recordings are favored. Mendelssohn's concertos(with Ormandy; especially popular in this work), Schumann, R.Strauss(Burleske), and Brandenburg Concerto with Busch's conducting(EMI) famous as historical performance. In solo works, two recordings of Diabelli Variations (studio recording by Columbia is monaural, while live by BBC is stereo), Handel Variations and Reger's Bach variations(CBS), Schubert's Impromptus D.935(CBS), and the only studio Chopin recording recently issued(op.28) are interesting.
Serkin was very sincere artist in many respect. Andras Schiff says he learned much how to interpret the scores from him. Columbia planned to record Beethoven's complete sonatas by Serkin, but in vain(Sony was surely unlucky in the project. Gould's are imperfect, also. I think Perahia will). I heard the behind stories; In early 1950s, at a Beethoven sonata session Serkin was too serious and perfect, so Columbia technicians had to take the longest time in Columbia's history. They had no choice to give the project up as they thought it would not be sufficient even to spend all the lifetime of Serkin.
| | |
| --- | --- |
| | |
| * Young age(ca. 1938) | * with Adolf Busch(ca. 1931, EMI CDH 7 64495 2) |
| | |
| --- | --- |
| | |
| * ca. 1977(from Sony Classical SRCR 8585) | * with Pablo Casals(from Ma vie racontée à A.Kahn, by Casals) |
The Resources
Main ; an appendix of Eumak-Donga(a Korean music magazine), my records.
photo of young Serkin - EMI LP 2C 051-34013
Philips Classics ; The 20th century pianists
(c) 2000~ , Youngrok LEE ; Link free, but please get my approval before you reuse, copy, or quote this materials.
Created ; 25th Dec. 2000
(Original Korean text created ; 10th Nov. 2000)
Last Update ; 8th Nov. 2008