* CASADESUS, Robert(7th Apr. 1899 ~ 19th Sep. 1972)
[ The endless fountain ]
1. Curriculum Vitae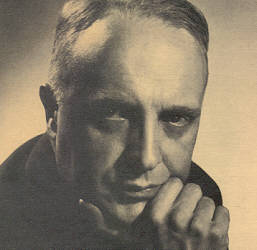 [ Left Photo ] Robert Casadesus(Photo; Sony Music Archive, 1953)
I think international fame likes words like brilliant technique, huge scale, power, masculinity, etc. Judging from these references, refinement, nobleness, and modestness tend not to be favored. Therefore, the incarnation of the words - Robert Casadesus is not generally known to the classical music listeners, but the gourmet of the routine baguette would understand his charm, I guess. In addition, even if inferior to Busch-Serkins, Casadesuses also is one of the most powerful art families in France, whose members are Henri(Robert's uncle, 1879~1947), Gaby(wife, 1901~99), Jean(son, 1927~72), Jean-Claude(nephew), and the most famous member is Robert, out of question.
Robert is born at Paris. Henri, his uncle, was violist of Quatour Capet who was one of the best string quartets with Busch quartet, and founded The society of ancient instruments with his families. He is always mentioned in the history of the historical instrument performance. Robert's aunt Rose taught him at first, and later Louis Diémer(a pupil of Liszt, master of French piano school. also taught Cortot) at Paris Conservatory. There he met Gabrielle L'Hôte(also Diémer's pupil), later married her in 1921. He played with her for more than 50 years. She abbreviated her first name as Gaby because he suggested her so in watching their concert poster. In fact, 'Robert et Gaby Casadesus' is much smarter than 'Robert Casadesus et Gabrielle L'Hôte Casadesus' - considering their son Jean later came in the team, in the point of the effectivity of poster space.
He taught at American Conservatoire at Fontainebleau near Paris, which was founded by his uncle Francis. Later he became director. He was praised by Brahms' Concerto No.2 with Toscanini and New York Philharmonic, after which he periodically toured USA. At the break of WWII and collapse of France by Nazi, he moved to America with his conservatory. He contracted Columbia(now Sony Classical) like Serkin and Busch, remaining the exclusive artist of Columbia after the end of WWII, returning to France. His activity at concert and recording hall was enormous - his concert appearances were more than 3000 by 1971.
His death came suddenly. In 1972, after traffic accident robbed Jean of his life in Canada, he passed away in Paris some months after. I guess Jean's death was one of the cause - Can there be any parents that will not be desparate if their promising son with friendly term died in his mid-forties?.
2. His music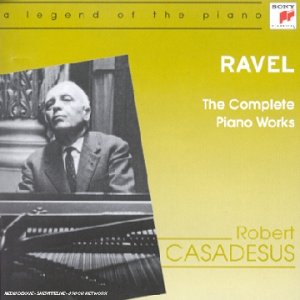 His art is lucidity and refinement itself. Any recording of his is far from partial exaggeration and useless complexity. I think Cortot is sometimes too romantic, but that he is never. Light and well-sonorous tone as well as the classical and stable interpretation has his music neat and cool. The feeling of watching the cool fountain in the mountain is his music.
His main repertoire were from French baroque(Rameau) to Debussy and Ravel, incluing German baroque and classic/romatic. His especially highly acclaimed repertoires were Mozart and Ravel. The former was well matched to his sophisticated touch, and his classical grasp and perfect technique clearly explained the classical inclination of the latter. One more - his family team repertoire as duo(with Gaby) and trio(with Gaby and Jean).
It is unfortunate that much amount of his recordings are monaural, but pretty many by stereo. Most of his available CDs recorded after his exile to America.
Solo works span from Bach to French impressionism, I want to choose Debussy and Ravel, complete set of which were recorded by 78s and LP twice. The Ravel set(1951) released as the Sony Masterworks Heritage clearly showed his classical style - really his typical performance. Robert got acquainted with the composer when young, whose works he often played in concert. Ravel liked this young artist, and the score and letters given by Ravel to him remain from now on. The virtuosos like Gieseking, Casadesus, Richter, and Gulda never emphasize romanticism when playing French 'impressionists', which has to be born in mind(I feel somewhat uncomfortable when listening Cortot's Debussy Preludes Book I because of the reason). Only half of the Debussy set was released, in which Preludes Book I & II are classical and straight also. Interestingly, Beethoven and Schumann recordings are pretty many, and the latter is stereo. He didn't confine himself within French repertoire.
Concerto recordings of Beethoven's Nos. 1, 4, & 5, Liszt's No.2, and Weber's Konzertstuck exist, but most famous ones are Mozart series with George Szell and Columbia Symphony/Cleveland Orchestra in 1959~62. I know Nos. 12,15,17,18,20~24,26 and 27. Szell's leading is transparent and sophisticated, and Robert's touch very near to those of the traditional 'Viennese' Mozart of the general concept. Szell's approach is more or less too keen for me in a few works, it's certain that this series is too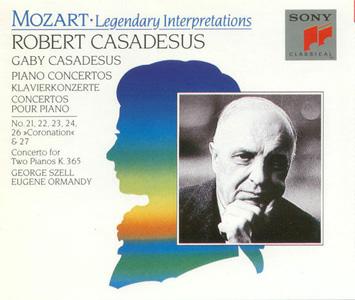 French works are indispensible, of course. D'Indy's Symphony on a French Mountain Air and Franck's Symphonic Variations with Ormandy/Philadelphia orch. are really fresh, beautiful, and have delightful tone. I remind these recordings of the cold fountain at the top of a mountain. Faure's Ballade and Saint-Saens Concerto No.4 with Bernstein/New York po. are also good, but some to be desired due to the background.
Most of his chamber music recordings are done with another Columbia artist, Zino Francescatti, who jointed with Robert from 1942 to 1972. Sony international only released Beethoven's complete sonata set(stereo), while French Sony all of his recordings from 2001. The combi's recordings include Brahms(3 sonatas), Fauré Nos.1 & 2, Franck, Ravel, and Debussy's. I guess they are not reissued because they are monaural, but in this French repertoire their splendid music really sparkles(I bought French local releases at Japan except for Ravel & Brahms). In 78s era, he recorded Fauré's Piano Quartet No.1(with Calvet sq.) and Debussy's Cello Sonata(with Maurice Maréchal) available only as French local, too.
I cannot miss his family team's recordings. The recordings of 4 hands or 2 pianos works with Gaby are internationally available by Sony - Chabrier, Satie, Debussy, R.Casadesus himself, and Fauré(Mozart and Schubert are not internationally available yet). Of course, they show very good ensemble by virtue of 50 years. In addition, Gaby said Robert played the low register when they played 4-hand-works. At J.S.Bach & Mozart's concertos for 2 or 3 pianos(with Ormandy and Dervaux), I think Mozart is better.
I think his interpretation tendency is well abbreviated by Gaby. "My husband liked Mozart, but his best choice (as a masterpiece) were Beethoven's string quartets". He was the master of the French romantic and impressionism repertoire, but I have confidence in that his artistry was based on the classicism. Others will agree; his Ravel is more famous than his Debussy. Otherwize, he could not interpret Mozart so well(Cortot, the romantist, could NOT). In this respect, he is deserved to be called the classicist not frequently seen in French pianists. Beside Yves Nat whose favorite was Beethoven, perhaps he should be the best classicist in French pianist from now on.
Links
(c) 2001~ , Youngrok LEE ; Link free, but please get my approval before you reuse, copy, or quote this materials.
Created ; 5th Jan. 2003
(Original Korean page created ; 21st Oct. 2001)
Last update ; 15th May 2003