Helmut Walcha's Recordings of Bach Organ Work
Andreas Holschneider(from Archiv CD 419 904-2)
Translation to English; Alan Newcombe
To commemorate the Bach bicentenary year of 1950, Archiv Produktion announced its intention to record the complete organ works of bach on historic instruments. The completion of the undertaking, amazingly ambitious in view of the conditions at that time, was repeatedly interrupted and postponed owing to the rapid development of recording techniques(from the old shellac disc to the mono long-playing record and on to stereophony). For the project it was necessary to find a suitable organist who was not only a brilliant musician, but who could also present the individual sound of a historic instrument to advantage. Helmut Walcha, already known as a knowledgeable and enthusiastic specialist on historic instruments, fulfilled all requirements.
The first records, Helmut Walcha's as well as Archiv Productions, had been made in August 1947, during the extremely difficult peroid of the immediate postwar years before the currency reform, on the small organ of St. Jakobi in Lübeck, one of the most outstanding products of early North German organ-building. The success of those recordings led to the decision to record Bach's organ works complete. It was not, however, intended to complete the recordings in Lübeck, because despite the beauty of the original stops - some of them dating back to the Renaissance - that organ's pedal notes proved to be very unsuitable acoustically, the short octave demanded too many compromises, and increasing interference caused by traffic noise would, in any case, have made further recordings there very difficult. The followiwng works were recorded on the Lübeck organ ;
Trio Sonatas BWV.525 in E flat major, BWV.530 in G major
Choral partita BWV.768 'Sei gegrüsset, Jesus gütig'
Fantasy and fugue in g minor, BWV.542
Prelude and fugue in E flat major, BWV.552
Toccata, adagio and fugue in C major, BWV.564
Toccata and fugue in d minor, BWV.565
Schübler Chorale, BWV.645~650
several chorales from the Orgelbüchlein
During the search for another historic instrument in North Germany it transpired that for the 'smaller' chorale preludes from the Third Part of the Clavier-Übung, which call for the large octave with all the semitones apart from the low C sharp, only the Arp Schnitger organ in Cappel near Bremerhaven met our requirements6). The instrument was originally built for the St. Johannis Church in Hamburg and was transferred to Cappel during the Napoleonic era(1816). After being restored to an adequate, playable condition by the Göttingen firm of Paul Ott, it became world-famous through Helmut Walcha's recordings1). So in June 1950 and September 1952 the series of Bach organ work recordings was continued and completed in Cappel, where some of the Lübeck works were also re-recorded.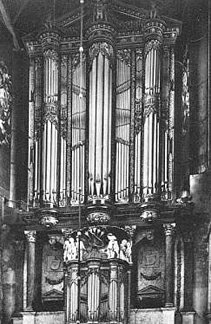 The onset of stereophonic recording posed a new problem; mono recordings became obsolete more quickly than could have been expected. In 1954 it was already deemed necessary to re-record at least the best-known works in stereo. the very first recording for the new project was the Art of fugue, which although not strictly speaking a work for organ can arguably be recreated most convincingly, that is, in the manner thought to correspond most closely to bach's intentions, on that instrument. The choice fell on the great organ of the St. Laurenskerk in alkmaar(Holland), with its magnificently resonant tone6). It was on this organ that Helmut Walcha recorded the Art of Fugue in September 1956, a recording that was Deutsche Grammophon's very first in stereo. The new recordings of the Toccata and Fugue in d minor(BWV.565), the Prelude and Fugue in C major(BWV.547), and the Trio Sonatas in E flat major and G major(BWV.525 and 530), were also made at that time. BWV.540,542,572,562,582,537, 538,548,544,534,552,541,546 and 543 followed in September 1962.
[ Left ] The Great Organ of St. Laurenskerk, Alkmaar
In 1968 the plan to record Bach's complete organ works was revived. If the project was to be brought to fulfilment, new stereo recordings would have to be added to the ones already made at Alkmaar. For the 'chamber music' works rich in contrasts - the chorale arrangements and four of the trio sonatas - alkmaar seemed less suitable, as the great organ and pedal there have no flute stops, and the specifications of the choir organ and upper organ are so similar that the scope for contrasting registration3) is very restricted. The possibility was then considered of recording the remaining works on the Schnitger organ at Zwolle, which had recently been renovated, and whose wide choice of registration was very well suited to our purpose. However, that organ is tuned a whole tone higher than present-day pitch, and it was finally decided that because of this the recordings could not be made there. So the decision was reached to have the new recordings made on a Silbermann organ, as the Silbermann organs in Alsace are among the most renowned examples of Baroque organ building.
During the summer of 1968 Helmut Walcha travelled through Alsace, trying out possible organs. The two organs at Marmoutier and Ebermünster, which have survived with the least number of alterations, were not considered for our recordings because of the restrictions of their registration and limited pedal keyboard compass. The choice finally fell on the organ of Saint-Pierre-le-Jeune in Strasburg6). Only a few of its stops are actually by Silbermann, but it has been carefully restored in accordance with the original specification and pipe measurements, and has been enlarged in the spirit of High Baroque polyphony. Helmut Walcha decided in favor of this organ and completed his series of recordings there in September 1969, May 1970, Autumn 1970 and May 1971.
A comparison of the various recordings, from Lübeck in 1947 to Strasburg in 1971, shows that, disregarding the differences in the acoustics and sound of the instruments, the interpretations remain remarkably consistent. The stylistic principles annouced at the outset are adhered to unwaveringly. Walcha undoubtedly possesses a feeling for style matched by very few others, especially with regard to his understanding of bach's proportional tempo relations. In the virtuoso movements the young Walcha was more unbuttoned; later he underlined the vocal provenance even of instrumental passage-work. The registration on the old Lübeck and Cappel recordings is sometimes more spectacular; in Strasburg it is more economical, lucid and subtle. Walcha has always refused to allow his registrations to be published, a reflection perhaps of the mentality of the craftsman who wishes to guard the secrets of his workshop; the registrations could also have been misrepresented if taken over uncritically and used on other instruments.
The organ recordings from Lübeck and Cappel are all deleted and have not been available for many years5). The Alkmaar and Strasburg recordings are presented here on 12 Compact Discs; CDs 1~6(from both Strasburg and Alkmaar) contain the free (i.e. not chorale-based) Toccatas, as well as Helmut Walcha's completion of the final fugue from the Art of Fugue, recorded in 1970 on the Strasburg organ at his special request; on CDs 7~11 (from Strasburg) are the liturgically based works, chorale preludes and other compositions based on hymn tunes; the set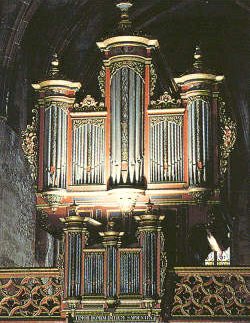 concludes (CDs 11~12) with the Art of Fugue recording of 1956(with the final fugue left incomplete) at the organ of the St. Laurenskerk in Alkmaar.
Works whose authenticity seems doubtful, owing to the form in which they have come down to us or for stylistic reasons, have not been recorded. This applies above all to the six organ concertos, BWV.592~597. We have also not recorded the Eight little Preludes and Fugues BWV.553~560, as they have been attributed to Bach's pupil Johann Ludwig Krebs, or to his father Johann Tobias Krebs. We have also omitted the chorale partitas BWV.766,767 and 770, whose sources are questionable, and whose style does not display Bach's accustomed mastery; they are generally regarded as youthful works. Also in dispute is the authenticity of numerous chorales included in the list of Bach's works under the numbers 690~713a(Kirnberger Collection), 714~740 and 741~765. We have included a representative selection from these groups.
These recordings contain the sum of a lifelong artistic and spiritual concern with the works of Bach. At the same time they represent a notable chapter in the history of Archiv Produktion, which is linked in gratitude with the name Walcha. This new release on Compacat Disc may be understood as an 'hommage à Helmut Walcha' on his 80th birthday.
[ Right ] The Silbermann Organ in the Church of Saint-Pierre-le-Jeune, Strasburg
Original note in booklet; From 1963 to 1965 the condition of the organ deteriorated alarmingly. Almost all the shutters cracked. At Helmut Walcha's instigations funds were raised to permit extensive renovation. In 1976-77 the organ was restored, completely in accordance with historical practice, by the Hamburg organ-builders Rudolf von Beckerath. In October 1977 Helmut Walcha recorded there 'his' large repertoire of works by Lübeck, Scheidt, Buxtehude, Böhm, Sweelink, Bruhns, Tunder and Pachelbel(4 LPs). These records - it was Helmut Walcha's own wish that they should be his last - appeared on the Archiv Produktion label in early 1978.
The late Cappel recordings are released as the title "Orgelmeisters vor Bach(Masters of organ before Bach)". In original note, there is an error that this set is 3 LPs(4 LPs is right). In this recordings, works by Lübeck, Scheidt, Buxtehude, and Bruhns were released by Archiv CDs. Unhappily, they seem to be deleted from the DG international catalogue now(Dec. 2000). See discography page.
(In playing cembalo or organ) Selection of the stops and coupling of them. Very important to the art of the playing.
Of course, some organists including Marie-Claire Alain publish their registrations. See Alain's Franck works recording(Erato 0630-12706-2).
Lübeck recordings were released as single CD by Archiv(Dokumente series), but disappeared now. As far as I know, monaural Cappel recordings have never released as CD outside Japan, but in 2004 Original Masters series reissued them as a box(as of 2012, again cut off from catalog). See discography page.
Disposition of the Cappel, Alkmaar, and Strasburg ; 'disposition' means what stops each keyboards has. The original text says Alkmaar organs has very limited freedom of contrast, which I want you to ascertain by comparing this disposition tables.
1) Disposition of the Arp Schnitger Organ, Cappel(pitch; g# = 435)

Hauptwerk
Great Organ/Grand Orgue
Rückpositiv
Choir Organ/Positif
Pedal
Pedal/Pédale
2nd keyboard, C1~C5
1st keyboard, C1~C5
C1~D3
Quintadena 16'
Prinzipal 8'
Hohlflöte 8'
Oktave 4'
Spitzflöte 4'
Nasat 3'
Gemshorn 2'
Rauschpfeife 2fach
(2 ranks/2 rangs)
Mixtur 5-6fach
(5-6 ranks/5-6 rangs)
Zimbel 3fach
(3 ranks/3 rangs)
Trompete 8'
Quintadena 8'
Gedackt 8'
Prinzipal 4'
Rohrflöte 4'
Oktave 2'
Sifflöte 1 1/3'
Sesquialtera 2fach
(2 ranks/2 rangs)
Terzian 2fach
(2 ranks/2 rangs)
Scharf 4-6fach
(4-6 ranks/4-6 rangs)
Dulzian 16'
Untersatz 16'
Oktave 8'
Oktave 4'
Nachthorn 2'
Rauschpfeife 2fach
(2 ranks/2 rangs)
Mixtur 4-6fach
(4-6 ranks/4-6 rangs)
Posaune 16'
Trompete 8'
Cornet 2'

2) Disposition of the Great Organ of St. Laurens Church, Alkmaar

Hauptwerk
Great Organ/Grand Orgue
Oberwerk
Swell Organ/Supérieur
Rückpositiv
Choir Organ/Positif
Pedal
Pedal/Pédale
Praestant 16'
Praestant 8'
Praestantquinte 6'
Octav 4'
Quinte 3'
Octav 2'
Flachflöte 2'
Terzian 2fach
(2 ranks/2 rangs)
Rauschpfeife 2fach
(2 ranks/2 rangs)
Mixtur 6fach
(6 ranks/6 rangs)
Trompete 16'
Viola da Gamba 8'
Trompete 4'
Praestant 8'
Bärpfeife 8'
Rohrflöte 8'
Quintadena 8'
Octav 4'
Floit Dous 4'
Spitzflöte 3'
Superoctav 2'
Spielflöte 2'
Sesquialtera 2fach
(2 ranks/2 rangs)
Scharf 4fach
(4 ranks/4 rangs)
Zimbel 3fach
(3 ranks/3 rangs)
Trompete 8'
Oboe 8'
Vox Humana 8'
Praestant 8'
Quintadena 8'
Hohlflöte 8'
Octav 4'
Flöte 4'
Nasat 3'
Superoctav 2'
Waldflöte 2'
Quinte 1 1/2'
Sesquialtera 2fach
(2 ranks/2 rangs)
Mixtur 6fach
(6 ranks/6 rangs)
Zimbel 3fach
(3 ranks/3 rangs)
Trompete 8'
Fagott 8'
Vox Humana 8'
Prinzipal 32'
Praestant 16'
Rohrquinte 12'
Octav 8'
Quinte 6'
Octav 4'
Nachthorn 2'
Rauschpfeife 3fach
(3 ranks/3 rangs)
Mixtur 6fach
(6 ranks/6 rangs)
Posaune 16'
Trompete 8'
Trompete 4'
Cornet 2'
3) Disposition of the Silbermann Organ of Saint-Pierre-le-Jeune, Straßburg

Hauptwerk
Great Organ/Grand Orgue
Oberwerk
Swell Organ/Récit expressif
Rückpositiv
Choir Organ/Positif
Pedal
Pedal/Pédale
56 notes, C~G5
56 notes, C~G5
56 notes, C~G5
30 notes, C~F3
Bourdon 16'
(on electric sound box)
Montre 8'
Bourdon 8'
Prestant 4'
Flûte à cheminée 4'
Quinte 2 2/3'
Quarte de Nazard 2'
Cornet 5fach(ab c')
(5 ranks, from C3)
Sifflet 1'
Fourniture 4fach(1 1/3')
(4 ranks/4 rangs)
Cymbale 3fach(1/2')
(3 ranks/3 rangs)
Trompette 8'
Clairon 4'
Bourdon 8'
Prestant 4'
Rohrflöte 8'
Flûte 4'
Sesquialtera 2fach
(2 ranks/2 rangs)
Doublette 2'
Larigot 1 1/3'
Cymbale 3fach(1/2')
(2 ranks/2 rangs)
Trompette 8'
Voix humaine 8'
Bourdon 8'
Prestant 4'
Nazard 2 2/3'
Doublette 2'
Tierce 1 3/5'
Fourniture 3fach(1')
(3 ranks/3 rangs)
Cromhorne 8'
Flûte 16'
Soubasse 16'
Bourdon 16'
(transmission from the Great
Organ)
Montre 8'
(on electric sound box; heard
from the east façade)
Flûte 8'
Prestant 4'
Quarte de Nazard 2'
Fourniture 4fach(2 1/3')
(4 ranks/4 rangs)
Cymbale 2fach(2/3')
(2 ranks/2 rangs)
Bombarde 16'
Trompette 8'
Clairon 4'
(c) 1987~ , original text by Andreas Holschneider & Deutsche Grammophon
(c) 2000~ , Youngrok LEE ; Link free, but please get my approval before you reuse, copy, or quote this materials.
Created ; 3rd Dec. 2000
Last update ; 7th Oct. 2012