* JANIGRO, Antonio(18th Jan. 1918 ~ 1st May 1989)
[ Incomparable ]
* Curriculum Vitae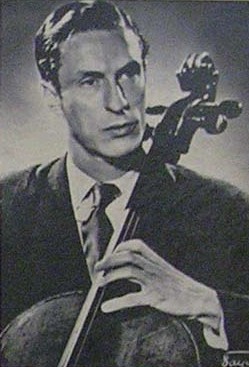 3 Photo ; Fayer Studio, Wien (from the front jacket of Vivaldi's Sonata)
Performer's present fame is not always proportional to his genuine ability. It can be said so, in many cases - but there are many exceptions, especially in case that the record label which holds the majority of his recordings is deceased or merged. I think the exemplary cases are Hermann Scherchen and Antonio Janigro, whose major label was Westminster merged to ABC(MCA). Scherchen's recordings are recently excavated by DG and Tahra, but Janigro not.
He was born at Milan, Italy. He growed in musical family, for his father wanted to be a concert pianist(but WWI robbed him of his right arm). Like Pierre Fournier, Antonio began with piano but was soon enchanted by cello. Fortunately, this change was not helped by personal unhappiness like Fournier. Such was his progress that he was able to win an admission of Verdi Conservatory at Milan. His mother made a chance of audition by Casals, who recommended Antonio to Diran Alexanian at Ecole Normale in Paris. Antonio was tutored by Alexanian from 1934, and many talents was crowded there. To say nothing of the faculties including Cortot, Thibaud, Enesco, and Nadia Boulanger, there were Lipatti and Ginette Neveu. Lipatti, who was picked up after a concour by Cortot, was one of his alumni. Later, Antonio left a radio recording with Dinu.
Similar to his father whose life was seriously changed by WWI, WWII also did his life. He stayed at Yugoslavia in 1939 in vacation when WWII was broke. Then, Zagreb Conservatory suggested him a position of its faculty(he was only 21-year-old). He almost settled to Zagreb from then on and made a big contribution for the city's music. After WWII, his international career including not only Europe and North America but also Japan and South America was begun and fame as a leading solist followed soon. Erich Kleiber said about his performance after a concert with him playing Dvorak's concerto, simply "Incomparable". Westminster label, which was a rising star in 1950s, contracted him and made many recordings with him as a main artist.
Very unfortunate to the fans of him as a cellist, Antonio's main activity was converted to conductor of Solists di Zagreb. Considering the recording datas, the solo works seemed to be no more than secondary. In mid 1960s he conducted Zagreb Radio Symphony, and later Saarbrucken Radio where his repertoires are not confined to from baroque to romantic era - including 20th century's works, e.g. Ligety. 1960s saw the most active recordings as a conductor to Vanguard and RCA, but the year 1970 is the last I can trace, of which reason I don't know. His later activity as a conductor was Camerata Academica Salzburg but no performance with the group was recorded as far as I know(his successor Sandor Vegh left considerably many recordings).
He spent the last years at Zagreb. I think he liked the city very much because he returned Milan only shortly before his death. Personally, he would mourn seriously if he would know Yugoslavia was ruined and ridden by racial war in 1990s.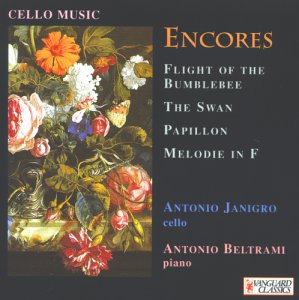 His music has special serenity, but instills calm emotion like concentric wave on water and leaves special taste. Casals' expressiveness(sometimes excessiveness) and Rostropovich's vast scale is far different from his. I like his Vivaldi Sonatas very much - with deep and natural dignity. Sometimes I think the scale and masculinity is deficient in his performance, espeically Dvorak's concerto, but it is maybe against his nature. Bach's suite is proper to his style, and Beethoven's sonatas are very good! It should be amazing experience to the people who prefer Rostropovich/Richter combi.
His recording quantity is beyond imagination if you know only now available CDs. The holder is Westminster(early cello repertoire) and RCA/Vanguard in the era as a conductor of Solists di Zagreb. Of course, to our unhappiness, most of the stereo recordings are conducting.
His interpretations includes mosts of the famous solo and chamber musics in Westminster. Concertos are Haydn No.2, Boccherini's B flat major, Dvorak, Bloch's Schelomo and Bruch's Kol Nidrei, and Sonatas Bach, Vivaldi(as a complete 6 works, the world-first recording), Beethoven's 5 works(with Carlo Zecchi. He was also partner of Mainardi in DGG), Brahms' 2 works(with Badura-Skoda), Shostakovich and Prokofiev(with Eva Wollman). Schumann's pieces, Arpeggione sonata, 3 Italian sonatas, and small pieces are recorded by accompaniment of Eugenio Bagnoli. My favorites are Bach and Vivaldi at first, and next 3 Italian sonatas including Frescobaldi's Toccata, Boccherini's A major, and Locatelli's in D major. Veyron-Lacroix's background is excellent in Bach and Vivaldi, and Antonio's lustrous and shiny tone is attractive in Italian repertoires. A radio recording of Dvorak's concerto with Erich Kleiber exists, but in my opinion it's not the first to be recommended along with his studio statement with Dixon. Of course Bach's unaccompanied suites should be mentioned, which were released as CD in mid 1990s by MCA, though soon deleted from catalogue.
He recorded many trio works with Badura-Skoda and Jean Fournier(elder brother of Pierre). Of course, though available only as second hand LPs like his other Westminster issues, Beethoven's 4 works including Archduke, Brahms No.1, Schubert Nos. 1/2, Dvorak Nos.2/5, Mozart 6 complete works, and Haydn 7 works are recorded. (I do not get Mozart and Haydn yet.) Young Badura's spontaneousness and string's dignity is melted to an ensemble.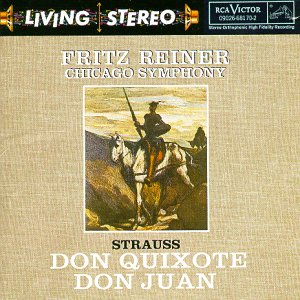 His stereo recordings are mostly conducting. However, his solo skill in this period is not negligible. Two solo works at Vanguard are the complete Beethoven Sonatas(with Demus) and encores album with Beltrami, of which many contents are re-recording of those in Westminster. These have good sound quality, and are available as CD at the present time. Very elegant performances, comparable to Fournier's masterpieces. At RCA, only an album of concerto was left, which contains Boccherini B flat major and 2 works of Vivaldi. The former is second interpretation at studio, which I heard him first. Unless I had listened Fournier's DG recording before, this would be the first without hesitation. The only available RCA recording is 'Don Quixote' with Fritz Reiner. His another solo fragments at RCA can be heard in Strings Omnibus album, by Couperin's "Concert suites" arranged by Bazelaire. About his conducting, I have little -.-
One more; many peoples will perhaps consent to my opinion that Italian cellists were shaded by French school, including great Fournier, Tortelier, Navarra, and Gendron. Famous Italians began with Enrico Mainardi, and Janigro, Amadeo Baldovino can be mentioned. However, total number of solo recordings (except chamber musics more than trio) available now by CD of them is far inferior to that by only Fournier! Frankly speaking, my personal liking is Fournier, but Mainardi or Janigro is NOT inferior in artistic value. Especially, the reason Janigro is less popular than Fournier is much due to the accessibility of records, I think. Westminster label's bankrupcy should be blamed, which is not his artistic value but only his luck. Who will be able to deny firmly "If Janigro had recorded at DG and Fournier at Westminster, Janigro would have far more popularity than now"?
Links
(c) 2006~ , Youngrok LEE ; Link free, but please get my approval before you reuse, copy, or quote this materials.
Created ; 7th Feb. 2006
(Original Korean text ; 24th Jan. 2006)