André Cluytens(26th Mar. 1905 ~ 3rd Jun. 1967)
[ The underrated maestro ]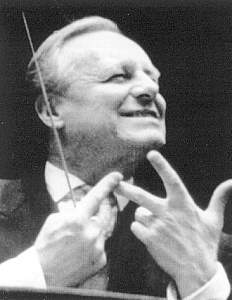 3André Cluytens [ from the 20th century conducts release, by IMG Artists ]
French artists tend to be not regarded(in Korea). Surely Pierre Monteux and Charles Munch were maestros, but their records are not very popular now. Such was French pianists, who are rarely commented by critics except Alfred Cortot and Samson François. Unfortunately, André Cluytens1) is in the same cases. Recent release by IMG management '20th century conductor series' was titled as 'The underrated maestro' - I guess it is international, not only in Korea.
André Cluytens was born not in France but in Antwerp, Belgium. His grandfa was also conductor. Father was conductor of Royal Opera of Antwerp, mother opera singer. It was natural that he should be taught to be a musician thoroughly. He entered Royal Flemish conservatory on 1914, graduating as Summa Cum Laude on 1922. His first chair was korrepetiteur of Royal opera to 1927, débuting by Pearl Fisher(Bizet) there. He soon succeeded father, and was invited by Toulouse Capitol Opera, which was the first career in France. Lyon Opera(1935), Bordeaux Opera(1938), Paris Opera(1942), Opera Comique(1947~53), Paris conservatory(1949~67), France National Radio(ORTF)(1950~ ). Fianlly he naturalized to France, but accepted musical director of Belgium National Orchestra. France gave him Région d'honeur.
His peak time started on 1949, when he succeeded Munch at Paris Conservatory Orchestra. Different from Monteux and Munch, he never held position in America and not frequently appeared at England. However, he conducted almost all the famous orchestras in Europe, including Philharmonia, Vienna & Berlin Philharmonic, even Bayreuth and La Scala. He escorted Vienna Philharmonic as a guest conductor in American tour, touring Japan and Russia with Paris Conservatory Orchestra and ORTF. However, in 1967 he died from stomach cancer, when he was mature as an artist. I think his last recording is Berlioz 'L'enfance du Christ'(1966, EMI). A historical fact added, Paris Conservatory Orchestra finished its long history(140 years) shortly after his death.2)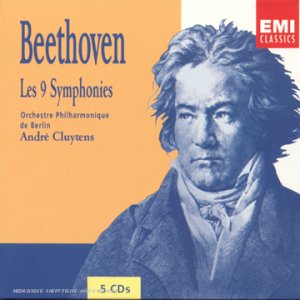 His style can be abbreviated as clarity, soft touch of carpet, and moderate colorfulness. In Beethoven his clarity is impressive, not ambiguous. His rounded expression was crystallized at Pastorale, very pure and clean performance.
In general, German artists do not like French works but French artists plays German works much relatively, which proves that it is difficult to be maestro by only French repertoires, so do Russians. Monteux often played Viennese classics, and Munch's interpretation of Beethoven and Brahms was famous3). Cluytens's favorite were Beethoven and Wagner. He recorded Beethoven's complete symphonies with Berlin Philharmonic in 1958~60(stereo), which is on catalogue from now on. This set is memorable by two records - the Philharmonic's first complete Beethoven set at studio, and the only one by guest conductor4). Wieland Wagner invited him to Bayreuth from 1955 to 1958, highly evaluating his interpretation. His Wagner experience was already 1940s at Paris Opera, by 'Flying Dutchman', etc.
Contrarily, his French musics are deserved to be called the French style. In special, 'L'Arlésienne' and 'Carmen suite' is not too much colorful, but very fresh, elegant, and with proper dignity. Bizet's symphony is monaural but somewhat speedy and fresher than Martinon, and especially Ravel complete set with OSCC is wonderful by its colorful tone - I have illusion to see the Swissian watchmaker whenever listening to this set. Moreover, OSCC, at the top, has very good masterly technique of the wind sections that is absolutely necessary for the French impressionists.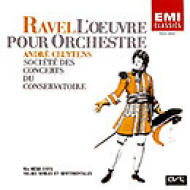 His recordings of German repertoire are pretty much, but French works are more familiar in general. Testament's recent issues include his monaural recordings in 1950s6), which were very rare items like Roussel's Symphonies(stereo) as CD outside Japan. In these repertoires considerable sums are re-recorded by stereo. I heard the former is more or less faster than the latter, same to the conventional cases.
However, the most popular recording is the stereo version of Fauré's Requiem, of which beautiful interpretation is unanimously praised. EMI regraded this from FULL to MED only recently by Great Recordings series release. His Ravel is at the first level surely. Daphnis et Chloe(complete, stereo) should be gotten by Testament coupled with Franck's Psyché suite(monaural), but the rests are available by EMI 'Noir et rouge' 2for1 series. Of course, the performances are too valueable for this budget grade. (Japanese issues are 4 CDs by Med grades including Daphnis!7)) The two concertos with Samson Francois are famous also.
His Berlioz list has 3 different Symphonie Fantastique, L'enfent du Christ, and La Damnation de Faust(extracts). Symphonie Fantastique, the stereo Philharmonia version is fairly famous(as of 2004, deleted from catalog), but Japan live 1964(released by Altus and EMI - 20th century conductor series) burns everything overwhelmingly, which alludes he was a conductor different at live.
Debussy recordings include 'Jeux', Suite 'Printemps', and 'Dance sacre et profane' with Annie Challan. Prélude a la midi d'un faune is not recorded in studio, but a Moscow live is available(Japanese release). Bizet is highly recommended. Symphony No.1 with ORTF(monaural) is very good, but not famous partly because of its bad availablity. Especially, Suite Arlésienne and Carmen must be one of the best recordings of his. Franck's Symphonic poems are recorded with Belgium National Orchestra, also notable(but EMI release was deleted from international catalog).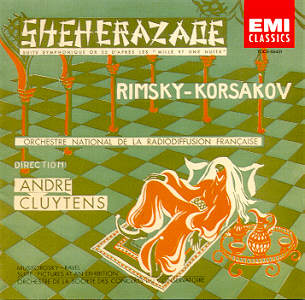 3 'Sheherazade' and Pictures at an Exhibition ; Toshiba-EMI version
His Russian repertoires are also good, next to French. Shostakovich's Symphony No.11 and Piano concerto Nos.1 & 2(composer's solo) were recorded under presence of Shostakovich himself. Mussorgsky's Pictures at an Exhibition, Boris Godounov, Borodin, and Rimsky-Korsakov's works are also included. Of course, though harsh driving force of the traditional Russian schools lacks in his performances, I guess his affinity to these realm stems from Debussy and Ravel, who were deeply influenced on by Russian composers. Most of these recordings are available by EMI or Testament, and some by Toshiba-EMI - Pictures at an Exhibition and Sheherazade(monarual).
In his German works, Beethoven is surely the first. I commented the symphonies, but perhaps the most famous one is the violin concerto with David Oistrakh produced by Walter Legge. He supported warm and strong-outlined solo steadfast, and I like this performance above all because the two player is far from partial exaggeration or too much unnatural extravaganza. Wagner's recordings are several Bayreuth lives(from Melodram) and Preludes/Overtures with Paris National Opera(now released by Testament). Orchestral excepts are enough better than only named one, with sufficient power. Liszt's Les Préludes and Schubert's Unfinished Symphony were recorded with BPO. The latter is delicate and beautiful(now available by Testament). Schumann Symphonies are Nos.3, & 4, which are all monaural. The former's orchestra is BPO(1957), and the other with ORTF(1950). It's not easy to get, only available by Toshiba-EMI. I luckily have it, of which performance have no scruple, and with confidence.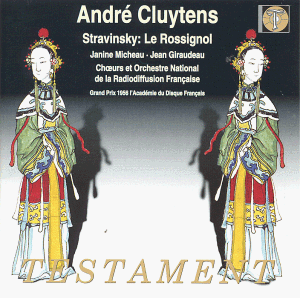 When young, he had long experience in opera houses. Therefore, he made many complete opera recordings5). After he contracted Pathé-Marconi in 1946, he proceeded recordings with the two orchestras - ORTF and OSCC of which he directed. At the opera repertoire, mainly with Paris National Opera and Opera Comics in monaural era, and with OSCC and VPO in stereo era.
Almost all of the opera recordings at studio are in French repertoires. The series with Paris Opera Comic Orchestra is interesting - Les pêcheurs de perles, Carmen, Les Contes d'Hoffmann, Faust(Gounod), Les mamelles de Tiresias, and L'heure Espagnole. I guess Carmen is the first recording of the premier version with dialogue. The works by Bizet and Offenbach were casted as the regular members of the Opera Comic, and the rests as famous singers active in France. Les Contes d'Hoffmann and Faust were recorded again by stereo, which are universally recommended considering the sound quality. Faust has been acclaimed by the powerful casts - Los Angeles, Gedda, and Christoph. The casts of Les Contes d'Hoffmann is even better than Faust, but score version is somewhat problematic by present view. Pelléas et Mélisande released by Testament is firmly classic. Lalo's Le roi d'Ys is not released by CD outside Japan.
Russian operas are Boris Godounov(title role is Boris Christoph, with OSCC), La Rossignol(with ORTF) and Persephone(with OSCC) of Stravinsky. German opera repertoire - Humperdink's Hänsel and Gretel is studio recording and well-known, with VPO, Irmgard Seefried and Anneliese Rothenberger
He was really a modest figure. I saw a film of 'Pictures at an exhibition' conducted by him(ORTF), in which he was very natural and not dictative to orchestra. It is said that the orchestra members, solists, and singers all liked him - it is not frequent case because the conductor has to control all of them8). I think it would be not too absurd that he was the man who was able to smile naturally like the photo at the top of this page, and who was praised by Gerard Souzay "hélas mort prématurément(sadly died so prematurely)" and that his good personality was well instilled into his recordings.
I cannot know if the 's' of his family name has to be pronunciated.
André Malraux, who was one of the best novelist of the 20th century and Cultural Minister of France, suggested Orchestre de Paris - after disbanding OSCC, of which the members was not restricted in the faculties of the Paris Conservatory. [ One example; concert master Luben Yordanoff was from Monte-Carlo Opera. ]
Haydn's symphonies conducted by Monteux are on catalog now(Decca/VPO). Brahms's No.1 by Munch/Paris Orchestra(EMI) is famous.
I know this set is the only recording of Beethoven's 9 symphonies by the French conductors who are as famous as he. Monteux recorded all the 9 symphonies but it is difficult to regard a complete set(Nos.1,3,6, and 8 with VPO/RCA, Nos.2,4,5, and 7 with LSO/RCA, but No.9 with LSO/Westminster). Munch, Plasson, Prêtre, Fremaux, and Lombard does not do it yet.
Monteux was director of the Met, and recorded 'Manon(Massenet)' complete set - however, his longest seasons in orchestra pit was legendary Ballet Russe, not opera. Munch was totally for concert and a concert master of Gewandhaus under Furtwängler and Bruno Walter.
Testament released many Klemperer and Furtwängler, but many French artists including Emile-Inghelbrecht and Cluytens. Cluytens's CD released by Testament are near 15 items.
Japanese CD grades ; top(2,500~2,900 yen), med(1,600~2,000 yen), budget(900~1,200).
It is natural that there are many dictators like Toscanini, Reiner, Szell, and Rodjinsky. Bruno Walter and Pablo Casals were 'exception in exception'.
20th century conductors by IMG artists(EMI release) ; EMI CZS 5 75106 2(2 set)
EMI 'Artist profile' record ; EMI CMS 5 65318 2(2 set)
Thanks to Mr. Eduardo Cornesa, correction about a small error(birthday of Cluytens)
(c) 2002~ , Youngrok LEE ; Link free, but please get my approval before you reuse, copy, or quote this materials.
Created ; 10th Feb. 2004
(Korean text created ; 28th Apr. 2002)
Last update ; 26th Sep. 2004